Price 119.000 euro, placed in Aarhus, Denmark
We have reached an age where it is about time to get an easy apartment ashore, so our lovely long-distance boat and home for the last 8 years is for sale.
Boat for long-distance and liveaboard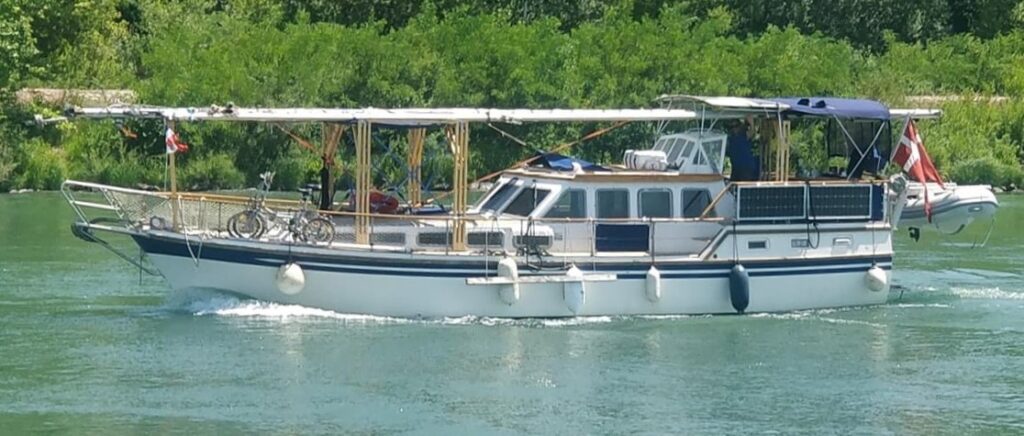 The boat has had a total of three owners, all three owners have been on a trip to the Mediterranean with the boat. As it only has a draft of 1.60 m (full last), it is suitable for sailing the inland waterways through the French rivers and canals, but at sea down the European west coast is also an option.
The previous owner was told by a surveyor that the boat (after extra examination of the mast) could be insured for a trip across the Atlantic, but if you dream of circumnavigating, there are better boat types. A Seafinn 411 is a motor yacht that sails really well with a little slack on the sails. It sails well close-hauled, but in headwind we have nearly always used motor + close-hauled mainsail, which provides a comfortable sailing.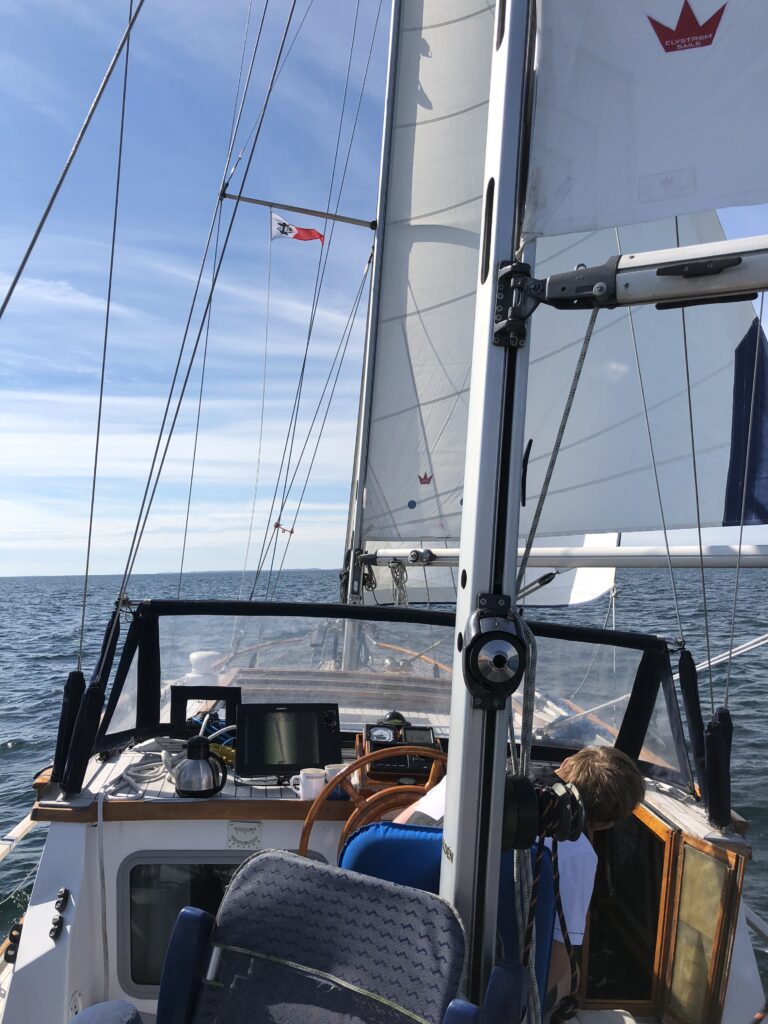 The boat is well equipped with spare parts for the engine, so common small repairs can be done on site (by yourself or the local mechanic).
In addition, both the previous owners and we have been liveaboards. For that purpose the boat is optimized for max. three people, but in summertime it has worked well as a holiday home for 6-7 people in several weeks.
Pictures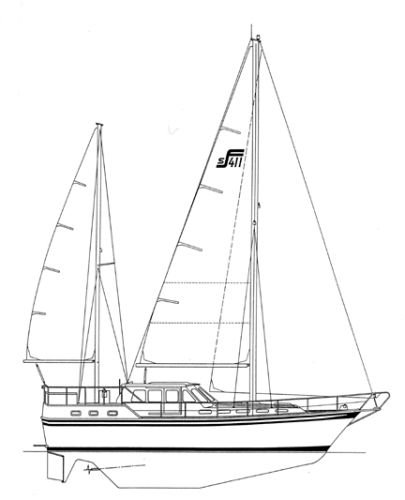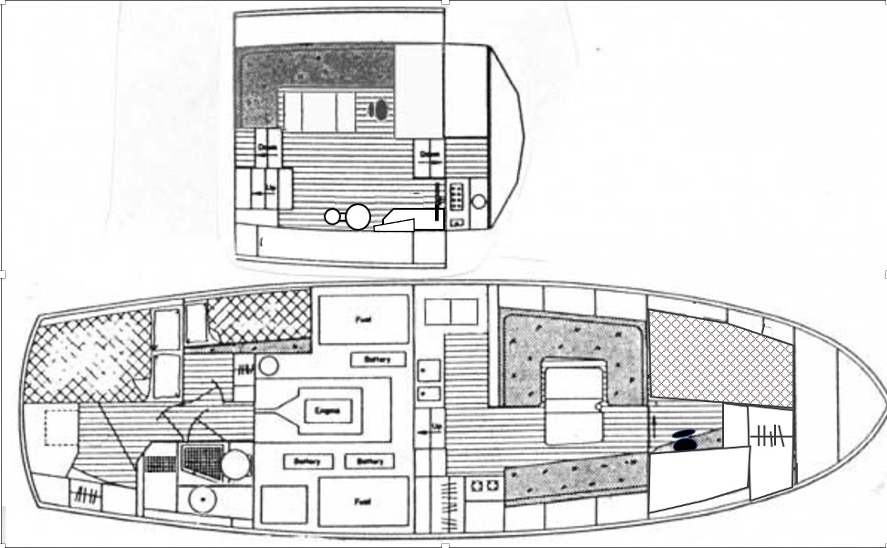 Inside
Front cabin
Salon and pantry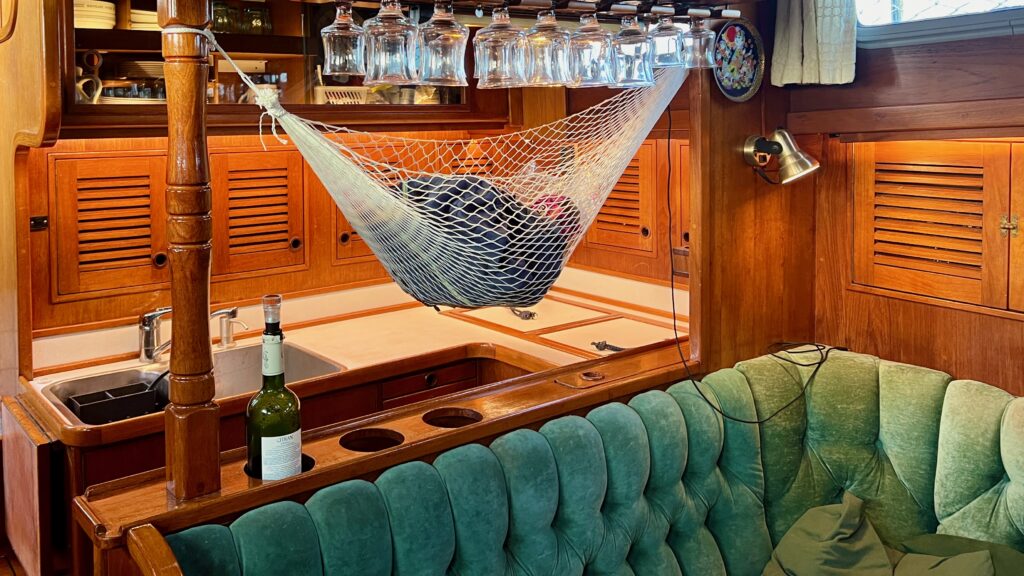 Wheelhouse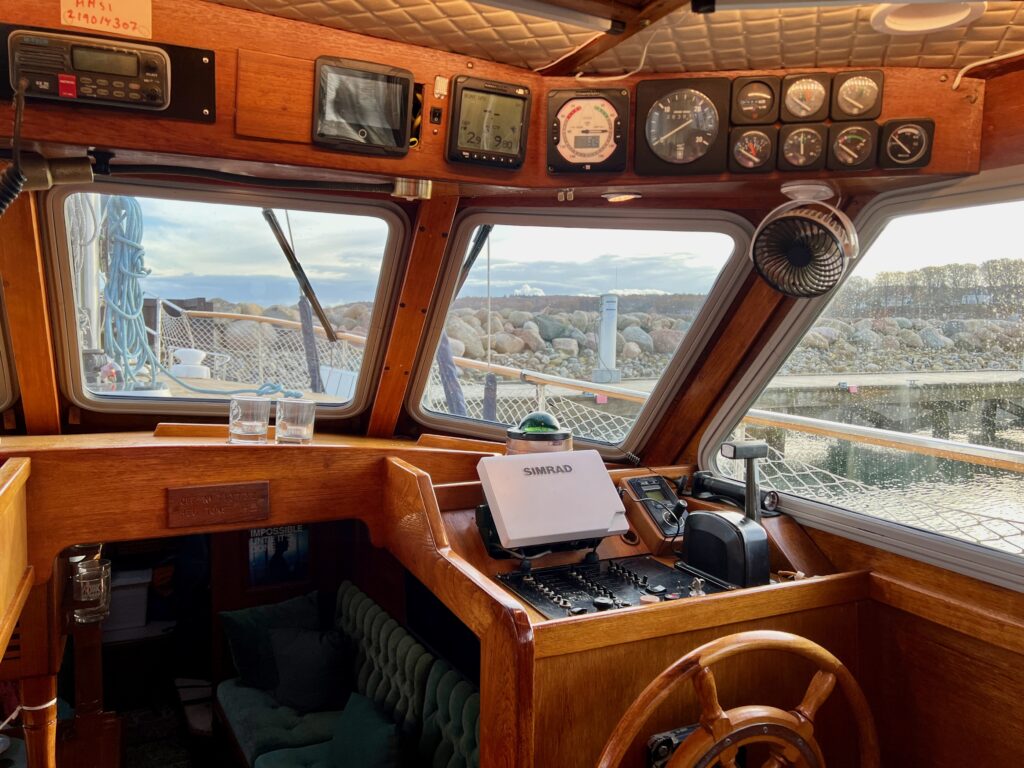 Side cabin (depot and washing machine)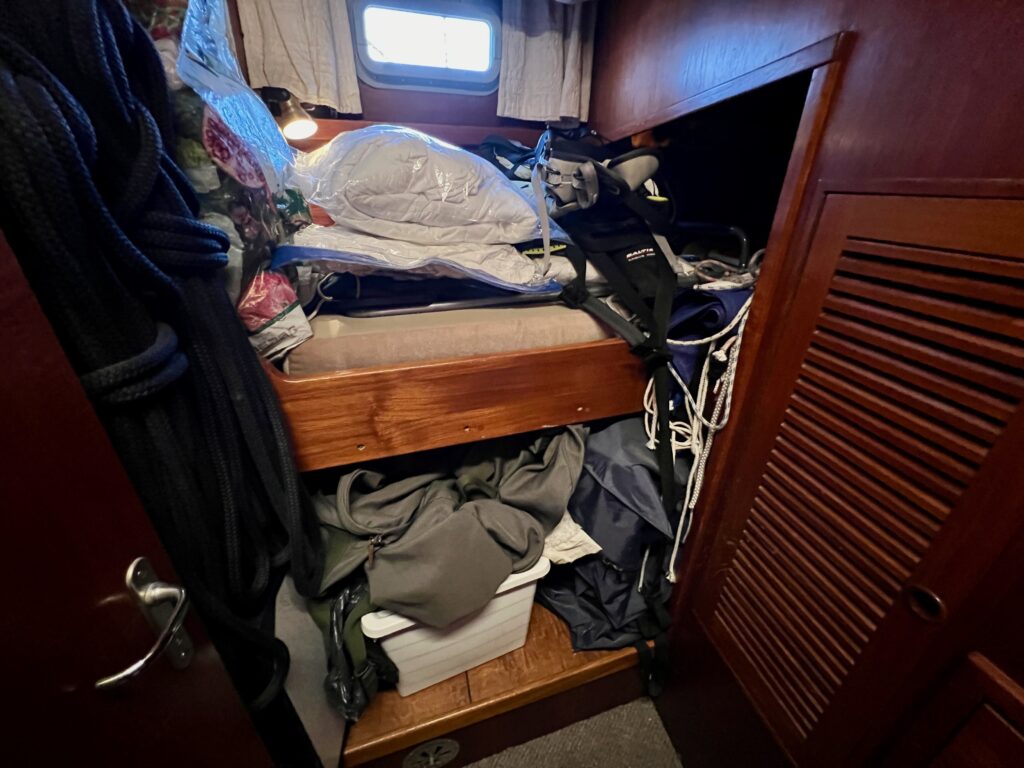 Here, e.g. folding bikes (can be included), base and mattress for making up a double bed in the salon, extra life jackets, cockpit cushions and everything else that needs to be kept dry! In addition, the washing machine goes through the upper bunk floor and stands on a plinth on the lower one.

If desired, the bunks can be re-established by removing the washing machine, replacing the cut section of the upper bunk bottom and making new mattresses.
Aft cabin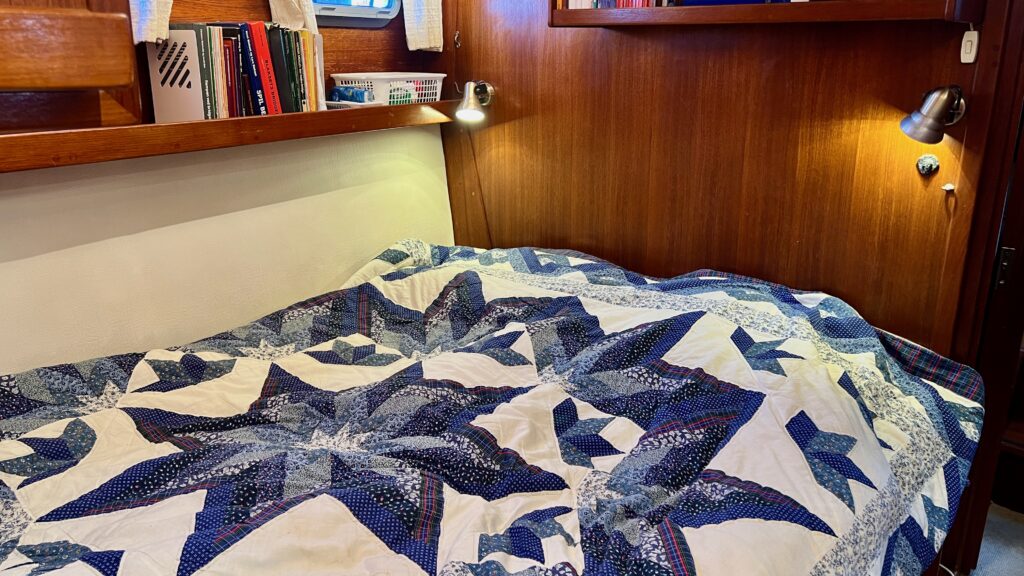 Toilet og shower
Outside
Aft deck
Factual information
Seafinn 411, year of construction 1987, construction number 73
Fiberglass with teak deck and keel embedded in fiberglass
Shipyard build by SeaFinn Yachts Oy. Finland
Length 12.4 m (without bowsprit and bathing platform/davit)
Width 3.6 m
Draft 1.55 m
Weight 12.5 tons
Engine Perkins 4236, 78 hp
2 furling masts
Sailing area with standard masts 93 square meters, with furling masts slightly smaller
Almost new sails (2017-2018, but not used much)
Bottom painted with coppercoat in 2013, 4 new layers in April 2022. Unfortunately, there has been too high humidity in the air, so blisters have appeared between the layers. However, according to the Danish importer, this should not mean anything for durability

Ruggerini diesel generator 3kW
Original purchase receipt with documentation of paid VAT included
Improvements
The Seafinn boats have to some extent been self-adapted and perhaps also built in relation to the customer's wishes. At some point, a standard version of the Seafinn 411 came out, for which there is also an old sales brochure. This is the version we have. There is only one side door in the wheelhouse, instead there is a staircase with a sliding hatch up to the aft platform. We really appreciate that, both during sailing and when we sit outside in good weather.
Compared to the original layout, rebuildings and additions have been made that make the boat even more suitable for living onboard.
Before 2010
Rebuilt pantry with extra upper cupboards, large fridge/freezer to port and stove to starboard
Rebuilt wheelhouse with folding table and large shelf for all the boat's papers and pilot books
Washing machine and storage room in side cabin (before 2009)
Extra upper cabinets in aft cabin (before 2009)
The aft toilet has a separate shower cubicle (before 2009)
Cover for the roof hatches (before 2009)
Both white cover and shade cover for the windows in the wheelhouse (before 2009)
After 2010
Insulation with 38mm armaflex where possible (2010-2011)
Water-borne heat with several heat sources:

Reflex Oil stove with heat recovery that provides a very dry bathroom (2010-2011)
electric cartridge or heat exchanger for engine heating (2014). This can be supplemented with heat from an electric radiator in the wheelhouse and in the bathroom (2019)

Front triangle – here the front toilet has been removed in favor of a 1½-man berth and desk with office chair and bookcase (2010-2011)
Cockpit table on pedestal (2011). New table top from 2019
Foldable bar stool (2012) that matches the height of the table in the wheelhouse, so that 5-6 people can sit and eat
200 l holding tank (2014)
Salon with 32" TV and cinema sound (respectively 2015 and 2010), new foam in cushions (2019), new carpet and cushion covers (2022)
Floor heating in half of the salon, in the pantry and parts of the toilet room (2016)
75 m stainless anchor chain (2018)
Condensation-free double glazing in all windows (2018-2022)
New Mastervolt charging system (2018-2021) with Chargemaster Plus 12/75-3, SCM60 MPPT-MB solar charge controller controlling 1000W solar cells, Mastershunt 500, EasyView 5, 700W inverter (AC Master 12/700). The system automatically supplies 3 battery banks and we can see the charging current/consumption together with power status on the consumption battery bank. In addition, the system can be programmed for individual needs.
LED lights everywhere, including several with the option of red (night) light (2019)
Tent for the aft deck (2022)
Maintenance
The boat is continuously maintained, of major things can be mentioned
2006 New teak deck
2006 Vacuum osmosis treatment incl. 2 layer rowing
2012-15 New Simrad navigation equipment incl. 2 plotters and 3G radar
2014 New windlass
2018 New Force 10 stove
2018 New fixed sprayhood
2019 New cover for roof hatch in wheelhouse
2020 New water-cooled compressor and evaporator Isoterm 2507
2020 New 40 l hot water tank
2020 New washing machine Whirlpool TDLR70230
2020 New batteries for windlass and bow thruster
2021 New consumer batteries
2022 Renovation of bow thruster